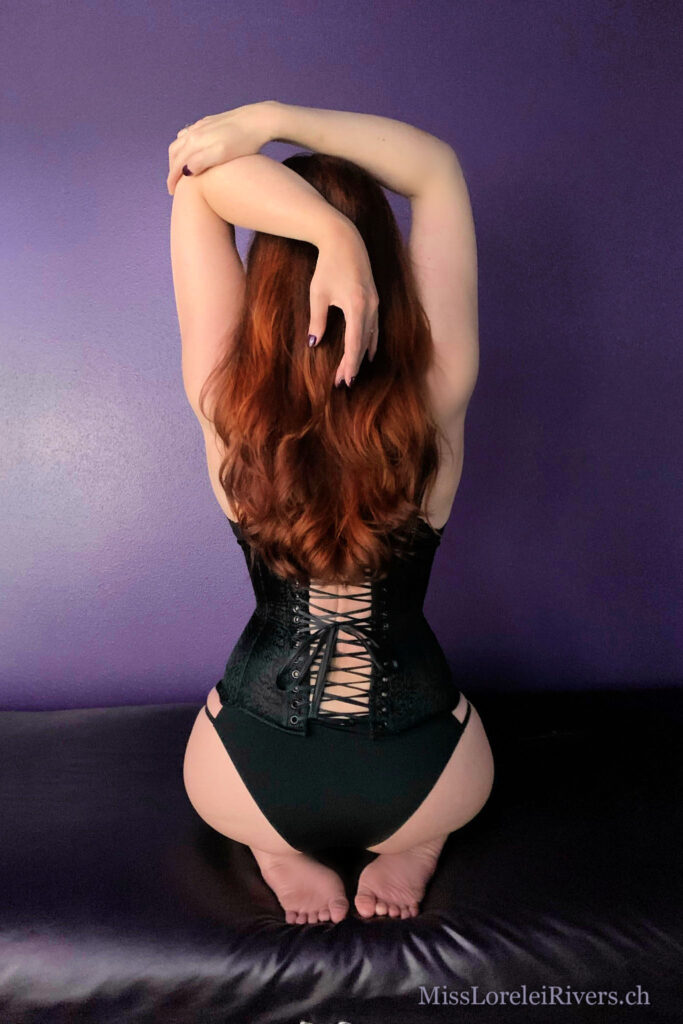 When are you available?
I am available from 11 am until 9 pm most days. You can find my calendar on my Contact page, though it is subject to change. (I can occasionally accept same-day appointments, but only from friends I've seen before or who can pass my reference check quickly. Appointments before 2 pm must be scheduled by the previous day.)
Do you have reviews?
I have adopted a no-review policy. Firstly, I prefer the private details of our time together to remain private between us. Secondly, review boards have become a security risk for all members. I request that my playmates refrain from posting reviews on such boards. If you're concerned that I may not be a real person, please visit my Twitter to see my history of posts and interactions with other users.
I've never seen a Domme before. Will you play with a beginner?
Absolutely! I love playing with beginners and introducing people to new things. Let's make your first experience a positive and memorable occasion.
Where will we meet?
My studio is located in West Seattle. I prefer my own space, but will also offer visits to you at my discretion, for which I request a $100 travel fee. My location has no stairs and can accommodate a wide range of ability levels. (If you have a disability or special accessibility requirements, let's talk! My space may be right for you; if not, I'm happy to come to you or help you choose an appropriate venue, and waive my travel fee.)
What if I don't know what I want to experience?
We can arrange our time as a "tastings" session and give you a sample of several activities. Please read through the Sessions with Me page and choose a few activities you find intriguing – we'll start with those.
Will our play leave marks?
While I am skilled at play that leaves no visual trace, there is always a risk of temporary marks with some kinds of play. If marks are a major issue for you, I can limit our activities to those with the lowest risk of marking (such as electrical play, CBT, and light bondage).
Will we have sex during our BDSM sessions?
BDSM play can be very sexy and intimate, but I find that sex distracts from fully experiencing the other sensations we are exploring.
I'll do anything you want, Miss Lorelei!
If you say this, I will laugh out loud and discard your message. Trust me: my capacity for inventive nastiness can easily outpace yours, and I'm unwilling to play that game. I'm also disinterested in full-time or live-in relationships.
Do you play with couples?
I love playing with couples, either to top both of you, or to instruct one partner in dominating the other with me. Please do not surprise your partner with a visit to me. I may also require a short meet-and-greet with both of you before scheduling.
Can another professional dominant join us?
Absolutely! I love to spend time with my friends, and you'll love being our mutual plaything. Among my most treasured partners are Domina Victoria Rage, Ms Amy, Domina Jane, Ruby Enraylls, and Katherine Control, and I'm open to meeting your favorite (vaccinated) lady or gentleman upon request. (I also have submissive playmates, available to join us on a limited basis.) We all have very different styles; the synthesis of our tastes makes every duo session completely unique. Please plan ahead, as multiple calendars are more complicated to coordinate, and expect to provide each player's requested tribute.
Can I call you on the phone?
I do not offer phone sessions, and I prefer email for general communication. Upon scheduling an appointment I will provide a phone/text number for last-minute contact if needed. Thereafter please revert to email for future appointment requests or questions.
Should I bring a gift?
Gifts are never required, but should you wish to spoil me, I do maintain an Amazon wishlist (which also includes a selection of desired gift cards). Always welcome are milk chocolate, white and sparkling wine (no red, please), books, silver-tone jewelry, lingerie, and shoes. I also love gift cards from Mr S. Leather (my favorite source for toys and leather) and Dark Garden (my favorite corsetier).
Shoe size: 8.5US/39EU
Bust: 36C
Dress size: 10/Large
Why didn't you respond to my email?
You may have been disrespectful, impolite, or explicit; asked me to negotiate my rates; failed my initial screening; or have clearly not read all the information on my website. I am only interested in spending time with well-mannered and obedient playmates.