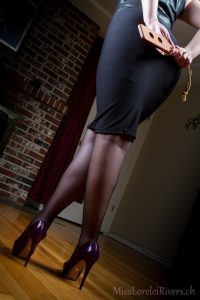 Are you ready to explore your playful fantasies or your darker desires? Tell me your longings, then let me take the lead – I'll guide you through an intimate and intense journey of pleasure and pain, control and submission, touch and intimacy. I prefer to build an ongoing relationship with my playmates. As we continue to nurture our connection, we can dig deeper into your most secret places…
Activities I enjoy
Rope bondage (restrictive, sadistic, decorative, suspension) – this is one of my specialties after years of practice!
Leather bondage
Plastic wrap mummification
Genitorture, CBT
Spanking, Caning, Flogging, Whipping, Paddling, Slapping, Punching
Sensation play: Massage, Clamps, Pinching, Tickling, Ice, Heat, Pressure Points
Temporary Piercing, Stapling, Suturing
Urethral sounding
Saline inflation
Electrical play (violet wand, stun gun, TENS unit)
Roleplay – let your imagination run wild! Be my student, subject, slave, or employee. My favorite roles include the fascinated lab researcher, the CEO in control of your career, and of course, Miss Lorelei the librarian, ready to discipline you firmly or read a sexy story aloud.
Cross-dressing/light feminization (with your clothes, wig, shoes, etc)
Dominance/submission
Discipline and Punishment
Body Worship
Golden Showers
FBSM/FBST
Shoe, Boot, and Foot Worship (I have an amazing collection of heels)
Fetish exploration – Feet, shoes, hair, leather? What's your pleasure? Let's indulge it.
Looking for something on the softer end of the spectrum? I love all kinds of touch, and a nearly endless list of other sensory pleasures.
I enjoy wearing dresses, leather, high heels, stockings, lingerie, and corsets while I play. If there is something particular you'd enjoy seeing me wear, you may make a request; I will consider your desire when dressing, but the final choice is mine.
Activities for which I am unavailable
Serious degradation – I enjoy playing with naughtiness, embarrassment, and punishment, but my style tends to be very positive and encouraging.
Activities that leave permanent marks
"No safeword" scenes  – all play must include some form of ongoing consent, verbal or not
Full feminization, unless you provide all your own clothing, shoes, wigs, etc. I am not equipped to outfit you from my collection, but I'd love to see your sexy pretty things!
Wrestling
Fireplay
None of these limits are a judgement on these kinds of play or those who enjoy or provide them. I exclude them either because I'm not skilled at them, they're not safe for me, or they're just not to my taste.
My Studio and Location
***Update: After a brief hiatus, I am now scheduling sessions in my new West Seattle location beginning January 26th! I am unavailable to meet until then.***
My new studio is not your average leather-and-chains dungeon; it has casual, dark, and boudoir spaces to fit our mood and plans. Rest assured, the softer settings do not inhibit my ability to inflict pain or keep you firmly bound. Photos to be posted soon…
My new location has no stairs and can accommodate a wide range of ability levels. If you have a disability or special accessibility requirements, let's talk! My space may be right for you; if not, I'm happy to come to you or help you choose an appropriate venue, with no additional fee. If you're visiting from out of town and cannot travel to my studio, I will also consider your request to visit you at a reputable Seattle-area hotel or your home. In that case, I do request an additional $50 outcall convenience fee in additional to my usual donation rate.